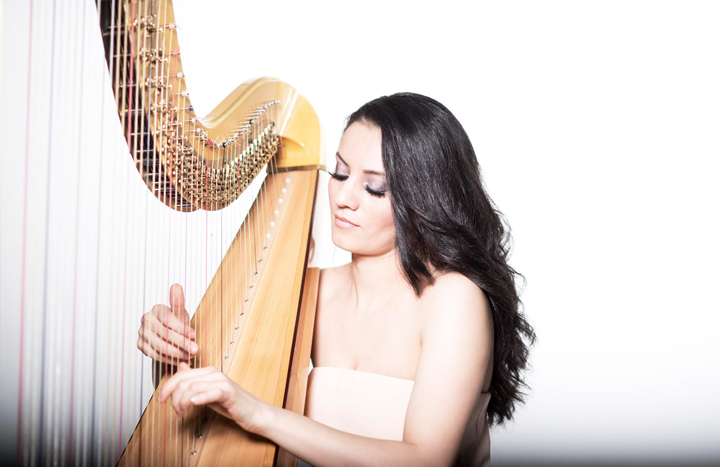 Biography


Her great style, precise fingers and repertoire flexibility characterizes her artistic profile.
As a harpist she builds cultural bridges between East and West, by introducing Turkish music frequently to Western audiences. Her perspective about music is an emotional act of language without any borders since the existence of mankind. From this moving point of principle, she has expanded her classical harp repertoire with the folk music, free improvisations, contemporary music, modern classics, Jazz, pop, and also the theatrical music. Between October 2013 and May 2015 she improved her skills in jazz theory and jazz arranging as a guest student at the Folkwang University of Arts.(Essen, Germany)

She started playing the piano aged six with her father, who is a respectful music academician and pedagogue in Turkey. After he realised her passion for music, he guided her to build a career in music. She first entered Hacettepe University Ankara State Conservatory at the age of ten. Completing a ten years of music education in 2002, she had her 'Bachelor of Art' degree in harp. Soon after, she continued her academical career as solo harpist of the Hacettepe Symphony Orchestra. In 2007 she got her "Master of Arts" degree at the same Conservatory. In 2009 her dreams came true and she started "Meisterklasse (Solistenklasse)" with Prof. Cristina Bianchi at the University of Music and Performing Arts Munich, one of the most respected Music Universities in Germany. During the years of this education, beside participating in many different music projects, she went on tour with the famous pop-opera singers project in Germany, the Adoro Band and the accompanying Symphonic Orchestra, performing in the largest concert halls in more than 30 city's as solo-harpist. Beside her intensive harp study, she had also attended to the lessons of "free improvisation" and "Alexander Technique" for two semesters. Following after the graduation in 2012, she decided to continue her musical career in Germany.

With her first lever harp in 2013, she extended her repertoire to traditional music (especially, Irish and Turkish folk music), meditation & healing music, new age, world music, soundtracks and improvisations.
In her musical journey of life she played with esteemed orchestras and conductors. Symphonieorchester des Bayerischen Rundfunks, Münchner Symphoniker, Die Orchesterakademie des Bayerischen Staatsorchesters, Aalto Theater Orchester, under the baton of Vladimir Ashkenazy, Kent Nagano, Alexander Rahbari, Klaus Weise, Benjamin Yusupov, Ionescu Galati, Anu Tali would be some examples she worked with.
In order to learn more different and important harp techniques she attended to short masterclasses with prestigious harpists, like; Elinor Bennett, Jana Bouskova, Prof. Skaila Kanga, Prof. Isabelle Moretti, Prof. Florence Sitruk, Gabriele Bamberger.
Her skills on the harp is appreciated and brings her some prestigious prizes and scholarships. In 2006 Felix Godefroid International Harp Competition in Belgium; In 2007 The Outstanding Young Person Culturel Prize (TOYP) in Turkey; In 2010 "Bardehle Pagenberg Award for Young Musicians and the Scholarship" in Germany; In 2011 DAAD "graduation scholarship" in Germany.
She still lives in Germany today as a freelancer concert harpist and continues her international music career. She teaches harp and leads an ensemble in a music school in Essen (NRW). She does regularly harp Workshops for the interested People.